Champlain-Hudson Trip 2003
Trip
We took a trip from Vergenns, VT to Kingston, NY in the summer of 2003. This included the souther half of Lake Champlain, the Champlain Canal and the northern half of the navagable Hudson River. The trip started on July 28, 2003 after three days of heavy wind that almost canceled the trip. (I will not go out on a big lake with the wind above 15 knots.) We arrived in Kingston on Friday August 1, 2003. The trip fit nicely into the week between the Otter Creek Steamboat Meet and the Kingston Maritime Museum Meet on the two weekends.
Crown Point Visitors Center and Bridge(to be taken down 12/28/09), Lake Champlain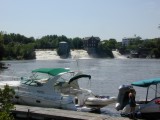 Waterfall Vergennes, VT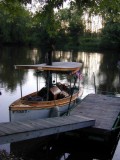 Aurora Borealis at the dock on Otter Creek Vergennes, Vt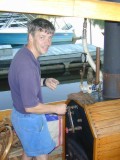 Happy steamer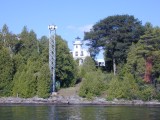 Barber's Point Lighthouse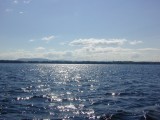 Open water Lake Champlain
Crown Point Bridge (from the water this time)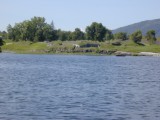 Fort St. Frederic at Crown Point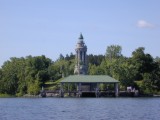 Crown Point Lighthouse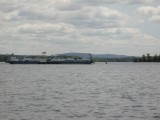 Cable Ferry at Ticonderoga, NY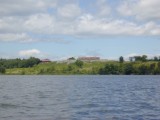 Fort Ticonderoga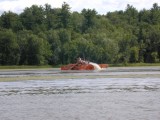 Water Chestnut Harvesting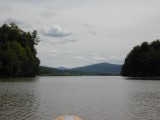 Lake Champlain narrows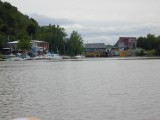 Whitehall, NY First lock of the Champlain Canal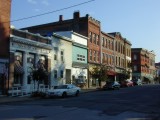 Down town Whitehall, NY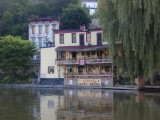 One of Two marinas in Whitehall, NY
Whitehall was our first night. We had a long day and got in at 4:30 pm.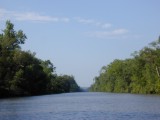 The Champlain Canal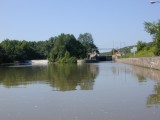 Falls and lock ready to enter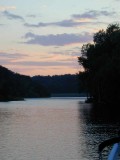 Sunset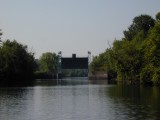 Guard Gate south of Fort Edward, NY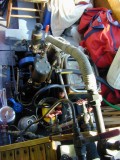 Engine and gear in S/L Aurora Borealis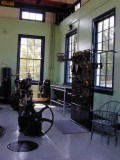 Restored Power House at lock 6 of the Champlain Canal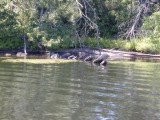 Shipwreck near Saratoga Battle Field
Another Restored Powerhouse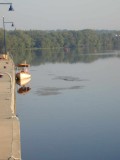 Aurora Borealis dwarfed by the lock wall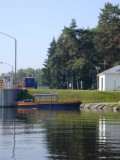 Lock 1 of the Champlain Canal
Still a lot of firewood and coal (packaged in grocery bags)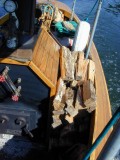 More wood (We were really fill when we started more that 100 miles ago!)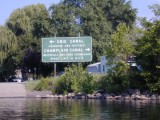 Erie Canal and Champlain Canal intersection at Waterford, NY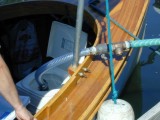 Pump out at Waterford, NY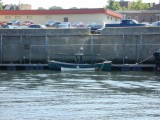 Another steamboat: This is one of the many steamboats named African Queen. (So many people ask if each steamboat is the African Queen (after the Bogart-Hepburn movie) that steam boaters either give in or ignore the question.)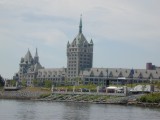 State University of New York Albany building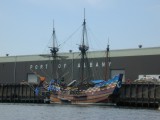 Half Moon Replica docked at Albany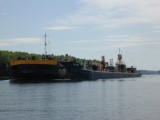 Now that we are in tidal water, there are barges. Watch for the pile of water in the front and two foot chop after them.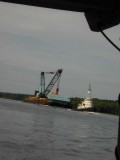 And another barge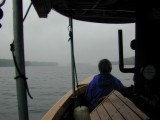 Weather on the Hudson River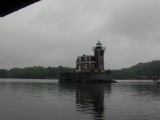 Hudson-Athens Lighthouse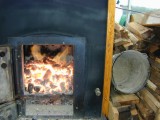 Hot coal fire in the boiler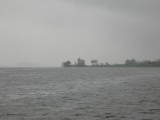 Saugerties Lighthouse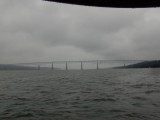 Bridge near Kingston, NY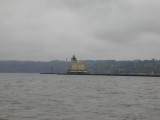 Roundout Creek Lighthouse Kingston, NY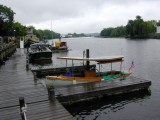 Docked at the Hudson River Maritime Museum

<!google analytic stuff START> <!google analytic stuff END>